TOURS / SERVICES
BEST KREMLIN TOUR
Just 45 € - the best price for the best Kremlin Tour in Moscow
Book now!
...Also in Petersburg!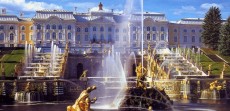 Partner's links
Moscow Kremlin Tour

The Moscow Kremlin is a must-see attraction in Russia, a beautiful fortress in the heart of the city full of history and legends. It used to be a residence of Russian tsars and communist leaders and now it's a working place of the president of Russia. Behind medieval walls you will discover the oldest square of Moscow and amazing cathedrals where Russian rulers used to get married, crowned and buried. You will see once the largest cannon and church bell in the world. 8 hundred years of Russian history in one place. Don't miss this experience with Moscow Free tour. No prepayment and no cancelation fee. On our Moscow Kremlin Tour you'll see:
Time:
2:30 PM, except Thursday
Price:
47 € / 3300 RUB
Students:
39 € / 2800 RUB
Language:
English
Duration:
1.5 hour
Includes:
Kremlin tickets, guide
If the guide didn't give you the Moscow Free Tour ticket - tour will be free for you.
Please contact us +7 495 222 34 66
PLEASE PAY YOUR ATTENTION: BOOKING IS ESSENTIAL ONLY FOR KREMLIN TOUR
---
MEETING POINT
Moscow Kremlin Tour and Metro Tour Meeting Point
DETAILED DIRECTIONS FOR YOUR COMFORT:
1. Go to
Biblioteka imeni Lenina
(Red Line (#1)) or
Alexandrovsky Sad
(Light Blue Line (#4)) metro station.
2. Use any exit.
3. Find the Kutafia Tower of the Kremlin. The tour starts at the square in front of the tower (it looks like a crown: white with red) next to its big arch (
see how it looks
). Our guide will wait for you near this tower with a big red umbrella saying ''Moscow Free tour''
PLEASE, PAY ATTENTION THAT KUTAFIA TOWER (MEETING POINT) IS UNDER RECONSTRUCTION NOW.
Tower before: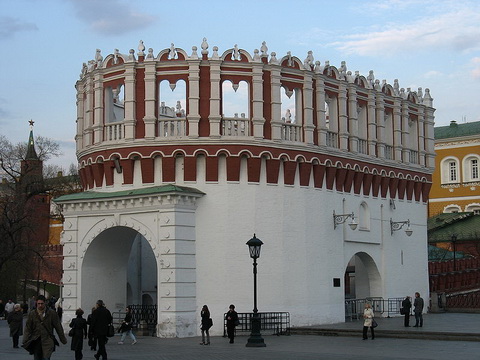 Tower now: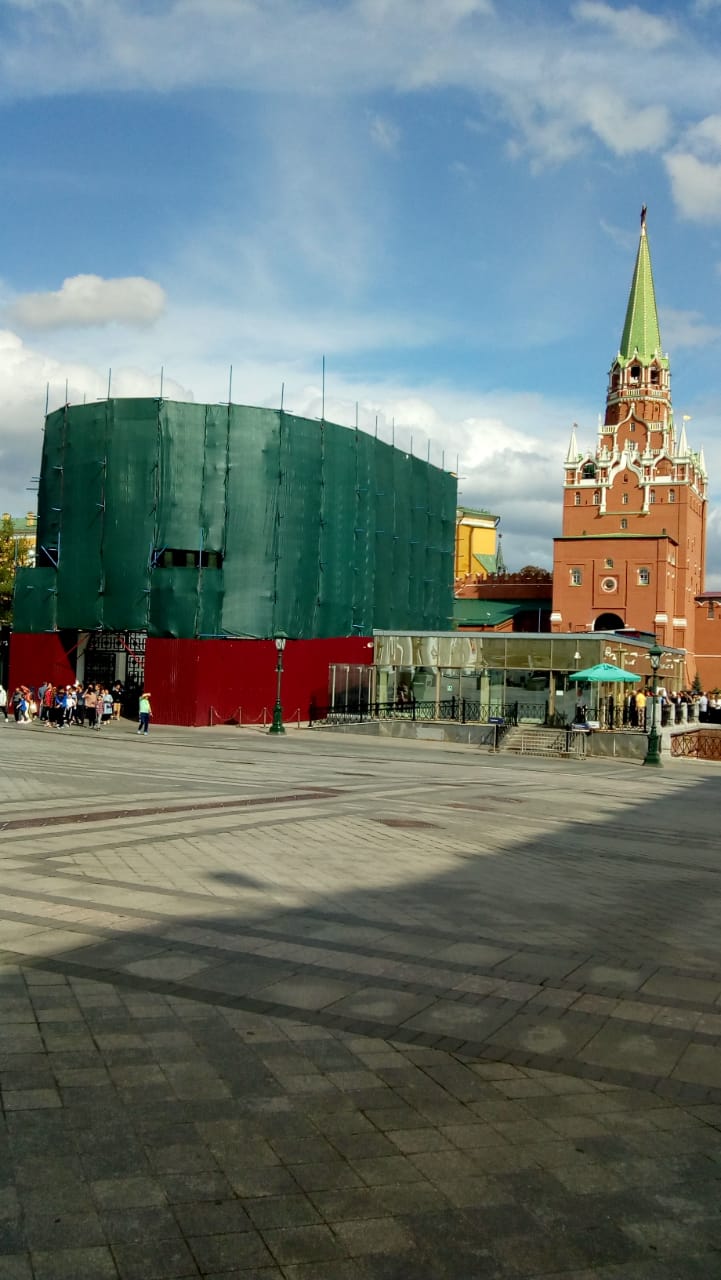 ---
Alternative MEETING POINT
WARNING! Sometimes during national holidays or special events it's impossible to get to Kutafya Tower. In that case the meeting point is the monument to Fedor Dostoevsky.
Alternative Meeting Point
DETAILED DIRECTIONS FOR YOUR COMFORT:
1. Go to Biblioteka imeni Lenina (Lenin's Library, Red Line) or Alexandrovsky Sad (Alexander Garden, Light Blue Line) metro station.
2. Use any exit.
3. Find the monument to Fedor Dostoevsky. The guide will wait for you near it.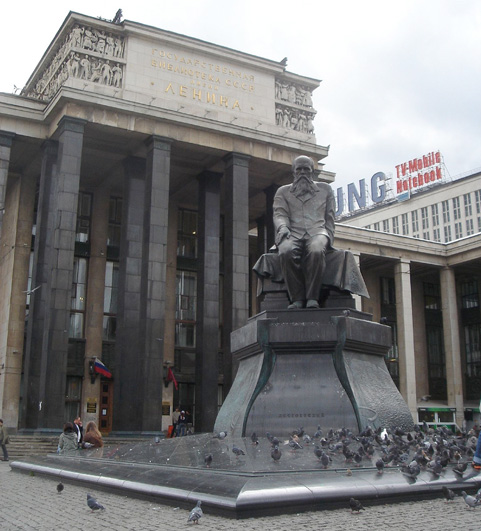 Metro map image based on source by Студия Артемия Лебедева, © 2012 Monument of Dostoevsky. Image by flickr/StaneStane. Used under GNU License.
+7 (495) 222-34-66
WhatsApp us or Call 9AM-8PM or
e-mail us

Book FREE Tour now
| | |
| --- | --- |
| | |
Testimonial
"A very enjoybale day in Moscow. We had a very nice and knowledgeable guide Anastasia.(Nastia) She was very passionate about the City and we learnt so much in our brief four hours walk with her! Certainly this walking tour added a lot of value to our Moscow Holiday. A great idea to educate visitors about Russia and Moscow. The group was intimate enough to ask questions and stop for snacks etc..we thoriughly enjoyed it and would highly reccomend it.Carry on doing a great job!"
- Shilpa, UK
Testimonial
"I really enjoyed the tour, it was a great experience, very informative and fun. I will definitely tell everybody about that tour, keep it it is a fantastic idea!"
- Alexa, Germany
Testimonial
"Sorry I do not remember the names :( ... They were very talkative and very into everything. I think they both really love the city, and they made me feel like this to. They knew much about History, which was very informative! Great guides!!!"
- Malte, Germany
Testimonial
"We partook of the fantastic Petersburg Free Tour. Due to our timing during the low season (shockingly not everyone is flocking to Moscow while the average temperature is 15F), it ended up being just us and Sonia, the afore-mentioned super-guide. She quickly ascertained the limited scope of our wanderings.."
- Berti, USA