TOURS / SERVICES
BEST KREMLIN TOUR
Just 45 € - the best price for the best Kremlin Tour in Moscow
Book now!
...Also in Petersburg!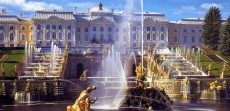 Partner's links
Moscow Kremlin: Introduction tour with Skip-the-line Ticket

This tour is definitely useful and beneficial for tourists who visit the Kremlin for the first time. The guide will meet you in front of the Monument to Marshal Zhukov nearby the Four Seasons Hotel and take you on a 45-minute introduction tour about the Kremlin in English. You'll receive the most important information about the Kremlin as well as other city center highlights. Behind medieval walls you will discover the oldest square of Moscow and amazing cathedrals, where Russian rulers used to get married, crowned and buried.
Ask your guide for recommendations or any questions you might have and receive an admission ticket. Your guide will also be sure to point out where you can rent an audio guide.
Pass through the security check and enter the Kremlin. Explore the oldest square of Moscow, see the Russian Presidential Residence, and the Ivan the Great Bell Tower. Visit the 3 main cathedrals: The Cathedral of the Assumption, the Annunciation, and the Archangel Michael Cathedral. Learn more about this iconic Russian site at one of the museums located in the complex.
Time:
Every day 3PM, except Thursday
Price:
31 € / 2200 RUB
Students:
23 € / 1700 RUB
Language:
English
Duration:
45 minutes
Includes:
Kremlin tickets, professional guide
DETAILED DIRECTIONS FOR YOUR COMFORT:
1. Go to Okhotny ryad (Red Line (#1)) or Teatralnaya (Green Line (#2)) metro station.
2. From Okhotny ryad metro station use exit 5 or 6 to Manezhnaya Square (Манежная площадь). From Teatralnaya metro station use exit 10 to Manezhnaya Square (Манежная площадь). If you go from Red Square, find the Historical Museum: the monument will be located in front of the museum.
3. Find the Marshal Zhukov monument. The tour starts in front of Marshal Zhukov monument at Manege Square (between Four Season Hotel and Historical museum) (
see how it looks
). Our guide will wait for you near this monument with a big red umbrella saying "Moscow Free tour"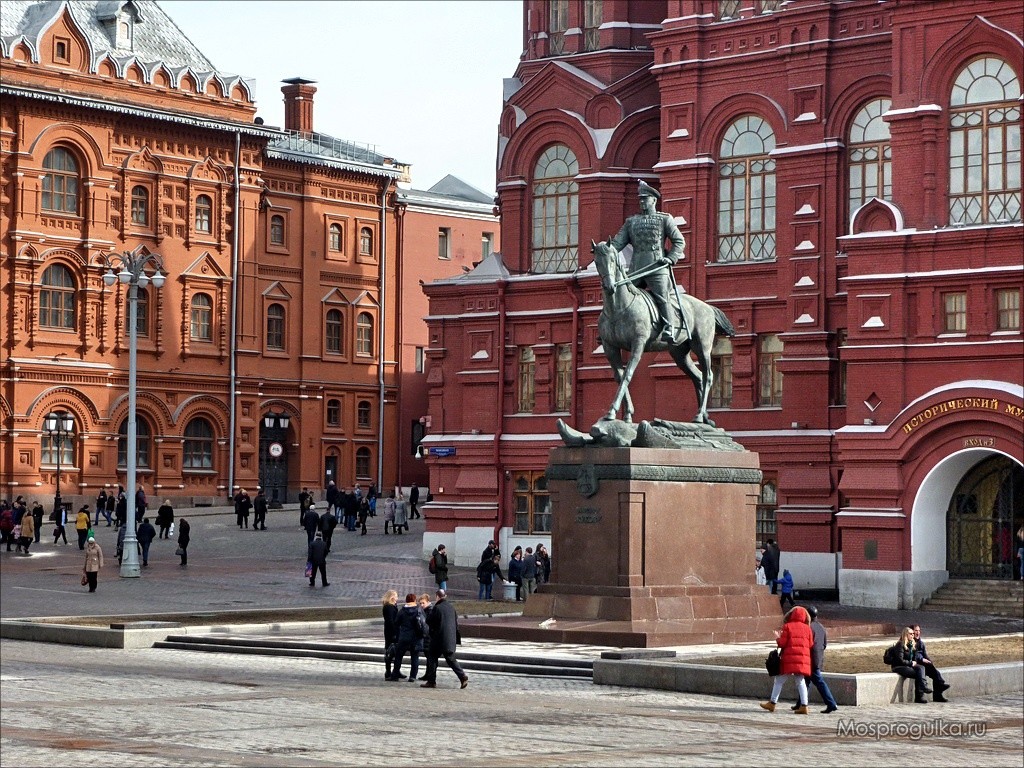 +7 (495) 222-34-66
WhatsApp us or Call 9AM-8PM or
e-mail us

Book FREE Tour now
| | |
| --- | --- |
| | |
Testimonial
"A very enjoybale day in Moscow. We had a very nice and knowledgeable guide Anastasia.(Nastia) She was very passionate about the City and we learnt so much in our brief four hours walk with her! Certainly this walking tour added a lot of value to our Moscow Holiday. A great idea to educate visitors about Russia and Moscow. The group was intimate enough to ask questions and stop for snacks etc..we thoriughly enjoyed it and would highly reccomend it.Carry on doing a great job!"
- Shilpa, UK
Testimonial
"I really enjoyed the tour, it was a great experience, very informative and fun. I will definitely tell everybody about that tour, keep it it is a fantastic idea!"
- Alexa, Germany
Testimonial
"Sorry I do not remember the names :( ... They were very talkative and very into everything. I think they both really love the city, and they made me feel like this to. They knew much about History, which was very informative! Great guides!!!"
- Malte, Germany
Testimonial
"We partook of the fantastic Petersburg Free Tour. Due to our timing during the low season (shockingly not everyone is flocking to Moscow while the average temperature is 15F), it ended up being just us and Sonia, the afore-mentioned super-guide. She quickly ascertained the limited scope of our wanderings.."
- Berti, USA