TOURS / SERVICES
BEST KREMLIN TOUR
Just 45 € - the best price for the best Kremlin Tour in Moscow
Book now!
...Also in Petersburg!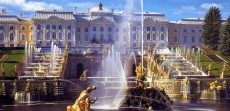 Partner's links
Izmailovo tour in Moscow flea market & Kremlin
Izmailovo tour in Moscow flea market & Kremlin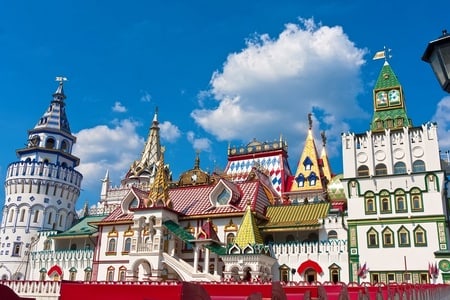 Have you already seen all the main sights of Moscow and the only thing that is left is to stock up with souvenirs?! Then the Izmaylovsky Market and the Kremlin is exactly what you need!

In Izmailovo you will visit the large open «flea market» full of various Russian souvenirs, crafts and other interesting things for purchase. Here you will find ancient pictures, carpets from Central Asia and can have a stop for having a snack while trying dishes from different regions of Russia and other former Soviet people.

The Izmailovo flea market is formally a part of «Vernissage in Izmailovo" which includes the malls and counters subdivided by types of goods on:


Antiquarian market
Flea market
Park of painting
Craft ranks
Comissary
Russian souvenir
Next to the Market there is Izmaylovsky Kremlin. The travel to this place is a unique opportunity to plunge into the atmosphere reminding the past and to see masters of craft on behind work, such as smiths, potters and woodcarvers. If you are interested, you can even participate in a workshop!
The Izmaylovsky Kremlin is built according to drawings and engravings of the 16-17th centuries. White stone towers are decorated with color tiles according to the ancient traditions.
The cultural Izmaylovsky Kremlin is a revival of the Russian family traditions.
Highlights
2-hour tour Izmaylovo Flea Market and the Izmaylovo Kremlin in Moscow
Discover the museums, galleries, street stalls,and regal palaces
Browse stalls selling Russian crafts, antiques, and culinary delicacies
Visit some of the six museums inside the Izmaylovo Kremlin and admire the Tsar's Palaces
Hotel pickup and drop-off by foot
We offer private tours not only in English! Please mention if you want to have a guide speaking Spanish, French, German, Chinese, Portugese, Japanese etc.
Price:
127 euros
Duration:
3 hours walking tour.
Includes:
pick-up from your hotel, professional guide, admission ticket.
+7 (495) 222-34-66
WhatsApp us or Call 9AM-8PM or
e-mail us

Book FREE Tour now
| | |
| --- | --- |
| | |
Testimonial
"A very enjoybale day in Moscow. We had a very nice and knowledgeable guide Anastasia.(Nastia) She was very passionate about the City and we learnt so much in our brief four hours walk with her! Certainly this walking tour added a lot of value to our Moscow Holiday. A great idea to educate visitors about Russia and Moscow. The group was intimate enough to ask questions and stop for snacks etc..we thoriughly enjoyed it and would highly reccomend it.Carry on doing a great job!"
- Shilpa, UK
Testimonial
"I really enjoyed the tour, it was a great experience, very informative and fun. I will definitely tell everybody about that tour, keep it it is a fantastic idea!"
- Alexa, Germany
Testimonial
"Sorry I do not remember the names :( ... They were very talkative and very into everything. I think they both really love the city, and they made me feel like this to. They knew much about History, which was very informative! Great guides!!!"
- Malte, Germany
Testimonial
"We partook of the fantastic Petersburg Free Tour. Due to our timing during the low season (shockingly not everyone is flocking to Moscow while the average temperature is 15F), it ended up being just us and Sonia, the afore-mentioned super-guide. She quickly ascertained the limited scope of our wanderings.."
- Berti, USA