TOURS / SERVICES
BEST KREMLIN TOUR
Just 45 € - the best price for the best Kremlin Tour in Moscow
Book now!
...Also in Petersburg!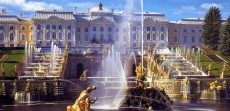 Partner's links
Bolshoi Theater Historical Tour

Bolshoi Theatre was founded almost 250 years ago and was the biggest opera house in Europe at that times. Today Bolshoi is among the ten most famous theaters in the world.
The famous Russian ballet school has been created within the walls of Bolshoi. The first performances of many world-famous Russian ballets and operas like "The Nutcracker", "Swan Lake" or "Eugene Onegin" had happened here.
Moscow Free Tour provides you a unique opportunity to get inside the Bolshoi Theatre without expensive show tickets, discover its history and see its luxurious interiors.
On our excursion Bolshoi Theater Historical Tour you will see:
The famous main hall of the Bolshoi Theater, one of the largest theater halls in the world
The Government and the Imperial Pews, where Russian Emperors used to sit (now it is reserved for Mr. President)
Richly decorated Small and Grand Imperial Foyer
Museum of the Bolshoi Theatre
Time:
Mon, Tue, Wed, Fri
Meeting point:
the fountain in front of the Bolshoi Theater
Duration:
2 hrs
Includes:
guide-interpreter
We can also arrange a shuttle service to the meeting point.
| | |
| --- | --- |
| Pax | Price per person, € |
| 1 | 249 € |
| 2 | 149 € |
| 3 | 99 € |
| 4 | 75 € |
| 5-9 | 60 € |
| 10-14 | 49 € |
| more than 15 | Please contact us! |
+7 (495) 222-34-66
WhatsApp us or Call 9AM-8PM or
e-mail us

Book FREE Tour now
| | |
| --- | --- |
| | |
Testimonial
"A very enjoybale day in Moscow. We had a very nice and knowledgeable guide Anastasia.(Nastia) She was very passionate about the City and we learnt so much in our brief four hours walk with her! Certainly this walking tour added a lot of value to our Moscow Holiday. A great idea to educate visitors about Russia and Moscow. The group was intimate enough to ask questions and stop for snacks etc..we thoriughly enjoyed it and would highly reccomend it.Carry on doing a great job!"
- Shilpa, UK
Testimonial
"I really enjoyed the tour, it was a great experience, very informative and fun. I will definitely tell everybody about that tour, keep it it is a fantastic idea!"
- Alexa, Germany
Testimonial
"Sorry I do not remember the names :( ... They were very talkative and very into everything. I think they both really love the city, and they made me feel like this to. They knew much about History, which was very informative! Great guides!!!"
- Malte, Germany
Testimonial
"We partook of the fantastic Petersburg Free Tour. Due to our timing during the low season (shockingly not everyone is flocking to Moscow while the average temperature is 15F), it ended up being just us and Sonia, the afore-mentioned super-guide. She quickly ascertained the limited scope of our wanderings.."
- Berti, USA