TOURS / SERVICES
BEST KREMLIN TOUR
Just 45 € - the best price for the best Kremlin Tour in Moscow
Book now!
...Also in Petersburg!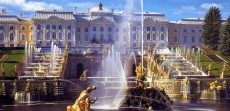 Partner's links
Golden Ring of Russia

Suzdal&Vladimir private tour: 1 day
Visit Suzdal and Vladimir on a full-day trip to the Golden Ring from Moscow! Traveling with an expert private guide, discover the two towns that are, arguably, the most charming of the famous Golden Ring. On a tour of Vladimir, visit the Assumption Cathedral -- once Russia's finest– and then head to Suzdal for a walking tour along the Kremlin ramparts. See the magical-looking onion domes and golden spires that typify the town, and visit museums, too. The itinerary is flexible, so if there's something you want to see more or less of, simply let your private guide know.
| | | |
| --- | --- | --- |
| Pax | Price for a group, € | Price per person, € |
| 1 | 675 | 675 |
| 2 | 712 | 356 |
| 3 | 748 | 249,5 |
| 4 | 901 | 225,5 |
| 5 | 937 | 187,5 |
| 6 | 973 | 163,5 |
Includes:
pick up / drop off from/to the hotel, car, personal driver, personal guide.
You can choose a transfer by train
(Option)
Sergiev Posad Tour: 1 day
Visit Sergiev Posad and the walled fortress of Troitse-Sergiev Monastery, one of Russia's most beautiful, where piligrims have journeyed since the 14th century. Travel by coach with an informative guide and explore the historical center of the Russian Orthodox Church on foot. Inside the massive walls, you'll gaze in awe at the breath-taking beauty of your surroundings, including the blue-and-gold onion-top domes of the famous Cathedral of the Assumption.
Price:
440 € for group to 6 people.
Includes:
pick up / drop off from/to the hotel, car, personal driver, personal guide.
+7 (495) 222-34-66
WhatsApp us or Call 9AM-8PM or
e-mail us

Book FREE Tour now
| | |
| --- | --- |
| | |
Testimonial
"A very enjoybale day in Moscow. We had a very nice and knowledgeable guide Anastasia.(Nastia) She was very passionate about the City and we learnt so much in our brief four hours walk with her! Certainly this walking tour added a lot of value to our Moscow Holiday. A great idea to educate visitors about Russia and Moscow. The group was intimate enough to ask questions and stop for snacks etc..we thoriughly enjoyed it and would highly reccomend it.Carry on doing a great job!"
- Shilpa, UK
Testimonial
"I really enjoyed the tour, it was a great experience, very informative and fun. I will definitely tell everybody about that tour, keep it it is a fantastic idea!"
- Alexa, Germany
Testimonial
"Sorry I do not remember the names :( ... They were very talkative and very into everything. I think they both really love the city, and they made me feel like this to. They knew much about History, which was very informative! Great guides!!!"
- Malte, Germany
Testimonial
"We partook of the fantastic Petersburg Free Tour. Due to our timing during the low season (shockingly not everyone is flocking to Moscow while the average temperature is 15F), it ended up being just us and Sonia, the afore-mentioned super-guide. She quickly ascertained the limited scope of our wanderings.."
- Berti, USA