TOURS / SERVICES
BEST KREMLIN TOUR
Just 45 € - the best price for the best Kremlin Tour in Moscow
Book now!
...Also in Petersburg!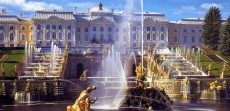 Partner's links
Moscow Free Tour
WHAT IS A FREE TOUR?
Top-rated tour company in Moscow on TripAdvisor!
Great routes which cover all the must-see places, as well as sights off the beaten track!
Charismatic, entertaining and experienced local tour guides who love Moscow and speak English fluently!
WHY DO WE RUN THIS TOUR FOR FREE?
We love our city and we want to share it with guests, regardless of their budget. We want to change foreign tourists' perception of Moscow and show a beautiful, modern, open-minded and friendly city. You might like our Free Tour so much that you will decide to join our paid tours.
Just make a booking, and our guides will eagerly take you for an amazing walk through our magical city!
HOW CAN A FREE TOUR BE THE BEST IN MOSCOW?
All our guides are not only professionals of their job. They are first of all bright personalities with open hearts, who love to meet new people, share experiences, have fun, and know all the ins and outs of the city.Our guides are self-employed, which means their income is based only on your tips. That motivates guides to do their best in making the tour bright, interesting and memorable.We firmly believe that if money is given for a Tour, it should be voluntary and in direct proportion to the quality of the tour and the budget of the traveller.Even though our guides appreciate tips, your applause means so much more to them, and they're happy to welcome you as their guests over and over again, as each new Guide has a different story to tell about Moscow!
WHAT WILL WE VISIT DURING THE TOUR?
On our Free Tours we cover almost all the main attractions in Moscow:
We believe the tour is not the history lesson - it is an emotional experience! We won't bother you with tons of facts, but rather tell you urban legends, interesting stories, and funny jokes! Believe us, you will bring many of these stories back home.Yes, we do our tours even in the Russian winter! Be sure, we'll never let you become cold. We always stop in the middle of the tour for a cup of hot tea or coffee! We also enter All Saints Church, GUM and Kazan Cathedral to warm up.
Time:
10:45 AM
Price:
FREE
Students:
FREE
Language:
English
Duration:
2.5 hours
Available:
Every day Responsibility is our main principle in booking. Please, come to the tour if you book it - the guides will be waiting for you. Otherwise please CALL or TEXT to cancel! Thank you!
---
MEETING POINT
Moscow Free Tour Meeting Point
DETAILED DIRECTIONS FOR YOUR COMFORT:
1. Go to
Kitay Gorod metro station
(Purple Line (#7) or Orange Line (#6)).
2. Take the escalator up (not the stairs!)
3. Find the monument to Cyril and Methodius in the center of Slavyanskaya Square (
see how it looks
). Our guide will wait for you in front of this monument with a big red umbrella saying "Moscow Free tour"
4. Make sure you've taken the right exit: you should see 2 men with a cross and NOT a bell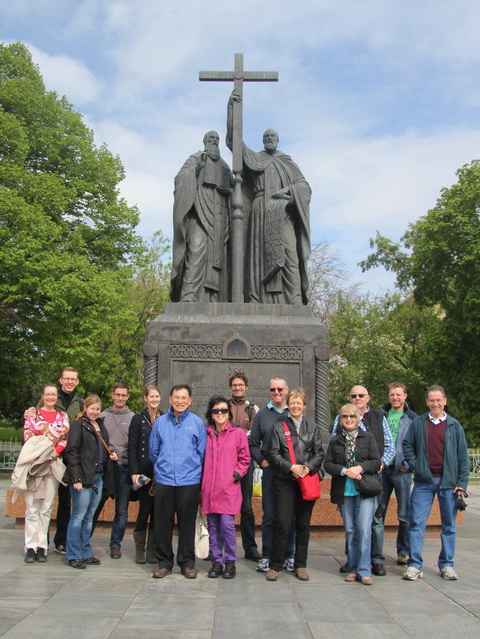 DO YOU HAVE OTHER MOSCOW CITY TOURS?
Sure we do! We have different standard and unique city tours in Moscow. You can see the full list and book them for the best prices in Moscow here:
moscow guided tours
.
+7 (495) 222-34-66
WhatsApp us or Call 9AM-8PM or
e-mail us

Book FREE Tour now
| | |
| --- | --- |
| | |
Testimonial
"A very enjoybale day in Moscow. We had a very nice and knowledgeable guide Anastasia.(Nastia) She was very passionate about the City and we learnt so much in our brief four hours walk with her! Certainly this walking tour added a lot of value to our Moscow Holiday. A great idea to educate visitors about Russia and Moscow. The group was intimate enough to ask questions and stop for snacks etc..we thoriughly enjoyed it and would highly reccomend it.Carry on doing a great job!"
- Shilpa, UK
Testimonial
"I really enjoyed the tour, it was a great experience, very informative and fun. I will definitely tell everybody about that tour, keep it it is a fantastic idea!"
- Alexa, Germany
Testimonial
"Sorry I do not remember the names :( ... They were very talkative and very into everything. I think they both really love the city, and they made me feel like this to. They knew much about History, which was very informative! Great guides!!!"
- Malte, Germany
Testimonial
"We partook of the fantastic Petersburg Free Tour. Due to our timing during the low season (shockingly not everyone is flocking to Moscow while the average temperature is 15F), it ended up being just us and Sonia, the afore-mentioned super-guide. She quickly ascertained the limited scope of our wanderings.."
- Berti, USA