TOURS / SERVICES
BEST KREMLIN TOUR
Just 45 € - the best price for the best Kremlin Tour in Moscow
Book now!
...Also in Petersburg!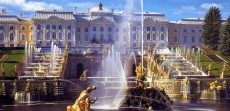 Partner's links
FAQ
Why Free Tour is free?
We love our city and want to share our love with all the guests of the city, regardless of their financial status. We want to change the image of Moscow in the eyes of tourists, to show that it is open and friendly city.
In addition, after visiting our Free Tour, you will appreciate the skill of our guides - and you can not help yourself not to come to our other tours!
What we'll see on the Free Tour?
On our Free Tour you will walk in the very center of Moscow and see all the major attractions of the city: the Red Square and the Kremlin, St. Basil's Cathedral and GUM, the Grand Theatre and the changing of the guards at the Tomb of the Unknown Soldier.
Our guides will tell you a lot of stories that you can't read in the guidebook, and, of course, will give you insider tips, to make it easier for you to navigate in our great city.
How to join a paid tour?
We are the only company in Moscow which offers daily tours with no prepayment. Our schedule is the same every day - see it on our home page. You can book your tour in advance (payment is not required) or just join it after the Free Tour - guide will show you the meeting point for each tour.
Can I join several tours in one day?
Yes, of course! Our daily tours grid is designed so that you can just follow the guide all day long. You will anyway have time for lunch and dinner.
Do I have to pre-pay for the Moscow Kremlin Tour?
We are the only company in Moscow, which offers daily * tours to the Kremlin without prior booking and payment. Decide after Free Tour if you want to join the Kremlin Tour - and just join!
* Except of Thursday, of course, when the Kremlin closed.
Do you offer private guiding?
Yes, of course! For those who want to explore the city on their own or choose a convenient time we offer private guiding. We will meet you in a hotel lobby at a convenient time, develop your itinerary based on your interests, or go wherever you want, and then drop you back to the hotel.
We can also provide a shuttle car or minivan on request. Please see Private Guiding page for details.
Are your tours walking or done by bus?
Our daily tours are walking tours. However, we can arrange a tour by car, minivan or bus. It can be a sightseeing tour of Moscow or the trip to the Golden Ring.
Can you organize a tour of the Golden Ring?
Golden Ring is definitely one of the most interesting touristic destinations of Russia! It's eight charming small towns in the north-east of Moscow, with a rich history and wonderful architecture. Almost all of them are in the UNESCO World Heritage List. You will see not only beautiful churches and mansions, but the undress Russian life, because the real Russia is surely not in Moscow.
If you have little time in Russia - we suggest you a one day trip to one of the closest cities of the Golden Ring - Suzdal or Sergiev Posad. For those who want to fully enjoy the atmosphere of this wonderful destination, we offer a four-day tour of all eight cities.
+7 (495) 222-34-66
WhatsApp us or Call 9AM-8PM or
e-mail us

Book FREE Tour now
| | |
| --- | --- |
| | |
Testimonial
"A very enjoybale day in Moscow. We had a very nice and knowledgeable guide Anastasia.(Nastia) She was very passionate about the City and we learnt so much in our brief four hours walk with her! Certainly this walking tour added a lot of value to our Moscow Holiday. A great idea to educate visitors about Russia and Moscow. The group was intimate enough to ask questions and stop for snacks etc..we thoriughly enjoyed it and would highly reccomend it.Carry on doing a great job!"
- Shilpa, UK
Testimonial
"I really enjoyed the tour, it was a great experience, very informative and fun. I will definitely tell everybody about that tour, keep it it is a fantastic idea!"
- Alexa, Germany
Testimonial
"Sorry I do not remember the names :( ... They were very talkative and very into everything. I think they both really love the city, and they made me feel like this to. They knew much about History, which was very informative! Great guides!!!"
- Malte, Germany
Testimonial
"We partook of the fantastic Petersburg Free Tour. Due to our timing during the low season (shockingly not everyone is flocking to Moscow while the average temperature is 15F), it ended up being just us and Sonia, the afore-mentioned super-guide. She quickly ascertained the limited scope of our wanderings.."
- Berti, USA