TOURS / SERVICES
BEST KREMLIN TOUR
Just 45 € - the best price for the best Kremlin Tour in Moscow
Book now!
...Also in Petersburg!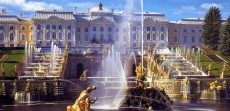 Partner's links
Kolomenskoe Park Tour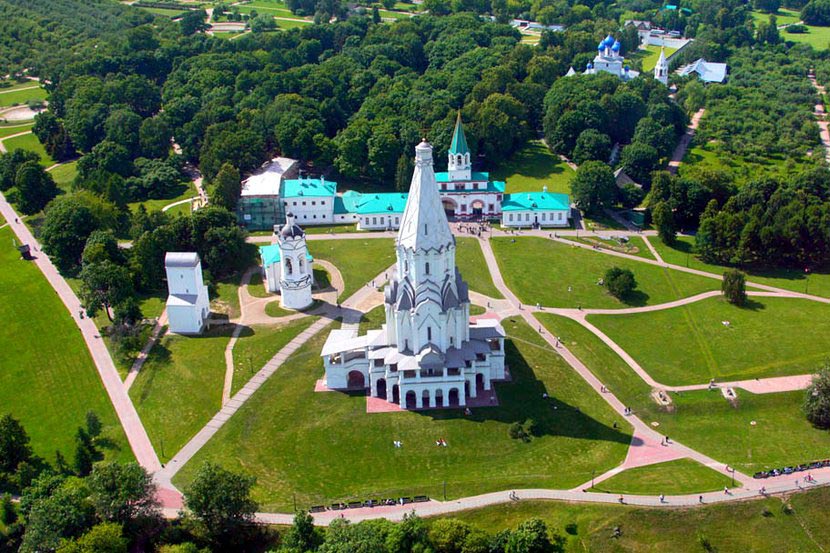 We invite you to visit one of the most ancient and picturesque places in the southern part of Moscow — Kolomenskoye.

Kolomenskoye is the former royal estate. During our tour to Kolomenskoye we will go to the palace which was built during the reign of Tsar Alexey Mikhaylovich. It turned Kolomenskoye Palace into the most important of all Imperial residences, conceding only to the Kremlin.

Since the 15th century, Kolomenskoye served as the summer residence of grand dukes of Moscow and the Russian tsars. That's why the rich architectural heritage was created here. The most crucial sight is Church of the Ascension which is included in the list of monuments of the world heritage of UNESCO.

There are also three more architectural monuments which are located close to the church: Bell tower of St. George (16th XVI), Water tower (17 XVII). And Hunting pavilion (19 XIX).

In 1667 one more wooden palace was ordered to built. The best masters of Russia and handicraftsmen worked on creating the masterpiece. Foreign ambassadors, patriarchy and the Russian aristocracy were frequent guests in Kolomenskoye. In the museum there are more than two thousand Russian patterns of the 15-17th centuries, wooden and stone fragments, the examples of fragments of lost constructions and Moscow historical objects.

In distant end of the park is situated one of the most popular sights — the reconstructed palace of Tsar Alexey, a fine example of the Russian architecture of the 17th century.

Today Kolomenskoye is one of the most popular parks for locals. There are always various holidays and festivals held in the park. Kolomenskoye tour is the one of the most interesting and pleasant activities during your visit to Moscow to combine walking across the huge historical territory of the park, enjoying fresh air and touching Russian history in Kolomenskoye.

We offer private tours not only in English! Please mention if you want to have a guide speaking Spanish, French, German, Chinese, Portugese, Japanese etc.


Pax

Price per person, €

Price for a group, €

1

146

146

2

82

164

3

61

183

4

50

200
5
44
220
6
40
240

More than 6 - Contact us
Duration:
3 hours walking tour.
Includes:
pick-up from your hotel, professional guide, admission ticket.
+7 (495) 222-34-66
WhatsApp us or Call 9AM-8PM or
e-mail us

Book FREE Tour now
| | |
| --- | --- |
| | |
Testimonial
"A very enjoybale day in Moscow. We had a very nice and knowledgeable guide Anastasia.(Nastia) She was very passionate about the City and we learnt so much in our brief four hours walk with her! Certainly this walking tour added a lot of value to our Moscow Holiday. A great idea to educate visitors about Russia and Moscow. The group was intimate enough to ask questions and stop for snacks etc..we thoriughly enjoyed it and would highly reccomend it.Carry on doing a great job!"
- Shilpa, UK
Testimonial
"I really enjoyed the tour, it was a great experience, very informative and fun. I will definitely tell everybody about that tour, keep it it is a fantastic idea!"
- Alexa, Germany
Testimonial
"Sorry I do not remember the names :( ... They were very talkative and very into everything. I think they both really love the city, and they made me feel like this to. They knew much about History, which was very informative! Great guides!!!"
- Malte, Germany
Testimonial
"We partook of the fantastic Petersburg Free Tour. Due to our timing during the low season (shockingly not everyone is flocking to Moscow while the average temperature is 15F), it ended up being just us and Sonia, the afore-mentioned super-guide. She quickly ascertained the limited scope of our wanderings.."
- Berti, USA