TOURS / SERVICES
BEST KREMLIN TOUR
Just 45 € - the best price for the best Kremlin Tour in Moscow
Book now!
...Also in Petersburg!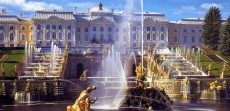 Partner's links
Grand Kremlin Palace Tour

Visit the Grand Kremlin Palace – the heart of Moscow Kremlin, the residence of Russian President, the hugest and the most beautiful palace!
Only we (nobody else!) have such a unique opportunity to show you the incredible beauty of the Palace's halls, find out its history, feel the wealth and splendor of ceremonial and state rooms, feel the atmosphere of luxury, in which great Russian tsars and emperors lived and worked.
Originally, the palace served as the Moscow residence of Russian emperors and their families. After the Bolsheviks came to power, the palace was closed. Since 1934 there were sessions of the Supreme Soviet of the USSR.
All the most important political decisions of the Soviet Union were made here. Currently, the Grand Kremlin Palace serves as ceremonial residence of the Russian President. Important general state and nation-wide ceremonies, such as the inauguration of the president, the presentation of state awards and credentials are held in its rooms and halls.
We offer private tours not only in English! Please mention if you want to have a guide speaking Spanish, French, German, Chinese, Portugese, Japanese etc.
While booking this tour please pay you attention to the fact that organaizing Grang Kremlin Tour usually takes us at least a month, so please contact us in advance.
Price:
1950 € for a group up to 20 ppl.
Includes:
private guide, admission fees.
Pax

Price per person, €

Price for a group, €

1

392

392

2

230

460

3

176

528

4

149

596

5

133

665
6
122
732

More than 6 - Contact us
+7 (495) 222-34-66
WhatsApp us or Call 9AM-8PM or
e-mail us

Book FREE Tour now
| | |
| --- | --- |
| | |
Testimonial
"A very enjoybale day in Moscow. We had a very nice and knowledgeable guide Anastasia.(Nastia) She was very passionate about the City and we learnt so much in our brief four hours walk with her! Certainly this walking tour added a lot of value to our Moscow Holiday. A great idea to educate visitors about Russia and Moscow. The group was intimate enough to ask questions and stop for snacks etc..we thoriughly enjoyed it and would highly reccomend it.Carry on doing a great job!"
- Shilpa, UK
Testimonial
"I really enjoyed the tour, it was a great experience, very informative and fun. I will definitely tell everybody about that tour, keep it it is a fantastic idea!"
- Alexa, Germany
Testimonial
"Sorry I do not remember the names :( ... They were very talkative and very into everything. I think they both really love the city, and they made me feel like this to. They knew much about History, which was very informative! Great guides!!!"
- Malte, Germany
Testimonial
"We partook of the fantastic Petersburg Free Tour. Due to our timing during the low season (shockingly not everyone is flocking to Moscow while the average temperature is 15F), it ended up being just us and Sonia, the afore-mentioned super-guide. She quickly ascertained the limited scope of our wanderings.."
- Berti, USA