TOURS / SERVICES
BEST KREMLIN TOUR
Just 45 € - the best price for the best Kremlin Tour in Moscow
Book now!
...Also in Petersburg!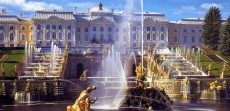 Partner's links
Horse drawn sled in Kuskovo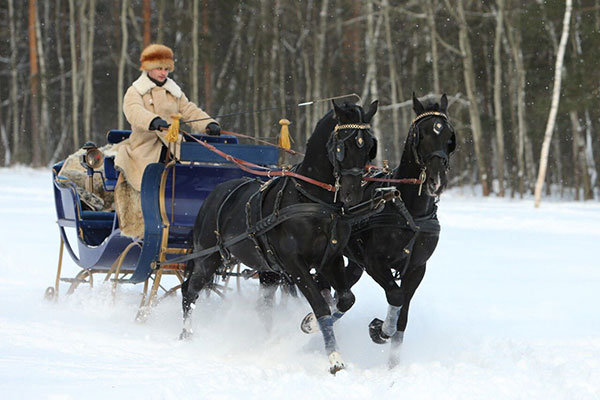 Are you in Moscow in the winter? Then you should certainly step into a Russian winter fairy tale.
Moscow Free Tour knows how to surprise you and show you the real Russian spirit. Endless expanses, invigorating cold, the fascination of nature in the Russian winter, and horses galloping to the melodic ringing of bells. You will have an hour long ride in a sled drawn by three horses through the forest expanses in the Kuskovo park, listening to the sound of hooves and the whistling wind. The Kuskovo estate is the only French park in Moscow with a marble sculpture, ponds and pavilions. Immerse yourself in the 18th century, the time when the three horse horse drawn sled, or troika, became a popular symbol of Russia! Until now, the Russian Troika has no analogues throughout the world. Be part of an unforgettable adventure and feel like a hero in a Russian folk tale.
During the skiing you will be accompanied by a professional guide and an experienced coachman. During the walk you can take amazingly beautiful photos.
Please remember to specify what language you would like: we conduct private tours in English, Spanish, German, French, Portuguese, Chinese, and Japanese.
Price:
510 euros for 4 people
Included:
One hour skiing on the Russian troika horses, professional guide, transfer from / to the hotel
+7 (495) 222-34-66
WhatsApp us or Call 9AM-8PM or
e-mail us

Book FREE Tour now
| | |
| --- | --- |
| | |
Testimonial
"A very enjoybale day in Moscow. We had a very nice and knowledgeable guide Anastasia.(Nastia) She was very passionate about the City and we learnt so much in our brief four hours walk with her! Certainly this walking tour added a lot of value to our Moscow Holiday. A great idea to educate visitors about Russia and Moscow. The group was intimate enough to ask questions and stop for snacks etc..we thoriughly enjoyed it and would highly reccomend it.Carry on doing a great job!"
- Shilpa, UK
Testimonial
"I really enjoyed the tour, it was a great experience, very informative and fun. I will definitely tell everybody about that tour, keep it it is a fantastic idea!"
- Alexa, Germany
Testimonial
"Sorry I do not remember the names :( ... They were very talkative and very into everything. I think they both really love the city, and they made me feel like this to. They knew much about History, which was very informative! Great guides!!!"
- Malte, Germany
Testimonial
"We partook of the fantastic Petersburg Free Tour. Due to our timing during the low season (shockingly not everyone is flocking to Moscow while the average temperature is 15F), it ended up being just us and Sonia, the afore-mentioned super-guide. She quickly ascertained the limited scope of our wanderings.."
- Berti, USA