TOURS / SERVICES
BEST KREMLIN TOUR
Just 45 € - the best price for the best Kremlin Tour in Moscow
Book now!
...Also in Petersburg!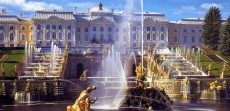 Partner's links
Kubinka Tank Museum Tour

Tanks were one of the main reasons Red Army of USSR could defeat Nazi forces during WWII. A race against Nazi was a reason to start a huge tank industry in USSR, which will later turn our country to the world leader in the armored vehicles.

The race continued during the Cold War - now against the United States. Soviet engineers were creating an increasingly complex machines with high speed and maneuverability. A peak of that was the famous "flying " tank T-80, which can move with the speed of the car and 'fly' over the ground up to 18 meters.

Museum of armored vehicles in Kubinka is one of the biggest armored vehicles museums in the world. It has a huge collection of the Soviet tanks since the WWII till the war in Afghanistan. It also stores an amazing collection of captured German tanks, as well as tanks of our WWII allies.

Moscow Free Tour Company will provide you an opportunity to see the stunning military equipment from all over the world, and explore the history of the 20th century through the history of the armored vehicles in just 4 hours

On our Kubinka Tank Museum Tour you'll see:
middle-size Soviet tanks pavilion, including the famous T-34, the hero of the WWII
pavilion of captured German tanks of the WWII, including the famous Toger and Panther tanks
huge (600 mm) German self-propelled mortar Karl
the world's only copy of the famous German super-heavy (188 tons) tank Maus
Time:
flexible
Meeting point:
we will pick you up from the hotel
Duration:
4 hrs
Included:
guide-interpreter, transfer
| | |
| --- | --- |
| Pax | Price, per person (EUR) |
| 1 | 299 |
| 2 | 174 |
| 3 | 124 |
| 4 | 99 |
| 5 | 79 |
| more than 5 | Contact us |
+7 (495) 222-34-66
WhatsApp us or Call 9AM-8PM or
e-mail us

Book FREE Tour now
| | |
| --- | --- |
| | |
Testimonial
"A very enjoybale day in Moscow. We had a very nice and knowledgeable guide Anastasia.(Nastia) She was very passionate about the City and we learnt so much in our brief four hours walk with her! Certainly this walking tour added a lot of value to our Moscow Holiday. A great idea to educate visitors about Russia and Moscow. The group was intimate enough to ask questions and stop for snacks etc..we thoriughly enjoyed it and would highly reccomend it.Carry on doing a great job!"
- Shilpa, UK
Testimonial
"I really enjoyed the tour, it was a great experience, very informative and fun. I will definitely tell everybody about that tour, keep it it is a fantastic idea!"
- Alexa, Germany
Testimonial
"Sorry I do not remember the names :( ... They were very talkative and very into everything. I think they both really love the city, and they made me feel like this to. They knew much about History, which was very informative! Great guides!!!"
- Malte, Germany
Testimonial
"We partook of the fantastic Petersburg Free Tour. Due to our timing during the low season (shockingly not everyone is flocking to Moscow while the average temperature is 15F), it ended up being just us and Sonia, the afore-mentioned super-guide. She quickly ascertained the limited scope of our wanderings.."
- Berti, USA