TOURS / SERVICES
BEST KREMLIN TOUR
Just 45 € - the best price for the best Kremlin Tour in Moscow
Book now!
...Also in Petersburg!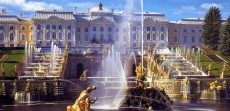 Partner's links
MUZEON

The Walk with the Soviet Leaders
Park of Arts MUZEON performs a unique tour: The Walk with the Soviet Leaders. You will learn more about the non-obvious pieces of Soviet cultural heritage and get answers to some off-the-wall questions. When Stalin suddenly ceased to please his own portraits? Why typical statues of Lenin have so little in common with the real appearance of the leader? How did the self-irony of Leonid Brezhnev affect the monumental propaganda? You will trace the evolution of the Soviet sculpture by the examples of such great artists as Sergei Merkurov, Vera Mukhina, Yevgeny Vuchetich, Viktor Dumanyan. You will learn how the public image of authority has changed in the past 70 years and what were the rulers in real life. Discover the hidden pages of the Soviet history!
| | | |
| --- | --- | --- |
| Pax | Price for a group, € | Price per person, € |
| 1 | 220 | 220 |
| 2 | 400 | 200 |
| 3 | 540 | 180 |
| 4 | 600 | 150 |
| More | Contact us | |
+7 (495) 222-34-66
WhatsApp us or Call 9AM-8PM or
e-mail us

Book FREE Tour now
| | |
| --- | --- |
| | |
Testimonial
"A very enjoybale day in Moscow. We had a very nice and knowledgeable guide Anastasia.(Nastia) She was very passionate about the City and we learnt so much in our brief four hours walk with her! Certainly this walking tour added a lot of value to our Moscow Holiday. A great idea to educate visitors about Russia and Moscow. The group was intimate enough to ask questions and stop for snacks etc..we thoriughly enjoyed it and would highly reccomend it.Carry on doing a great job!"
- Shilpa, UK
Testimonial
"I really enjoyed the tour, it was a great experience, very informative and fun. I will definitely tell everybody about that tour, keep it it is a fantastic idea!"
- Alexa, Germany
Testimonial
"Sorry I do not remember the names :( ... They were very talkative and very into everything. I think they both really love the city, and they made me feel like this to. They knew much about History, which was very informative! Great guides!!!"
- Malte, Germany
Testimonial
"We partook of the fantastic Petersburg Free Tour. Due to our timing during the low season (shockingly not everyone is flocking to Moscow while the average temperature is 15F), it ended up being just us and Sonia, the afore-mentioned super-guide. She quickly ascertained the limited scope of our wanderings.."
- Berti, USA