TOURS / SERVICES
BEST KREMLIN TOUR
Just 45 € - the best price for the best Kremlin Tour in Moscow
Book now!
...Also in Petersburg!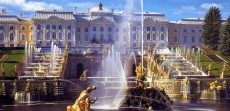 Partner's links
Essential Moscow: All must sees in one day

Our Essential Moscow Tour is the best way to explore all the must-see sights of Moscow just in one day.
Ideal for business tourists and for those who pass Moscow on transit. The tour will show you all the major sights of Moscow: the Red Square and the Kremlin, St Basil's and Christ the Savior Cathedral, Arbat Street, Bolshoi Theater and much more. Then you can have a lunch in a place with good Russian cuisine and - get to probably most important landmark of the whole country - the Moscow Kremlin. We promise - you will get the full Russian experience in just one day! So, what is the itinerary:
A walk in the сеnter of Moscow.
You will start with famous Red Square to see iconic St Basil's Cathedral and astonishing GUM department store, Lenin's Mausoleum and Historical Museum. Continue with the famous Bolshoi Theater and former KGB Headquarters, Moscow Hotel from Stolichnaya Vodka cover and the Ceremony of changing of guards near the Tomb of the Unknown Soldier.
Tour to the Moscow Kremlin.
With your guide you will get to the must-see Moscow Kremlin – a fortress in the center of Moscow, once the residence of Tsars and the communist leaders, and now the office of the Russian President. It's one the most beautiful castles in the world and a living textbook of Russian history. You'll visit the ancient Assumption Cathedrals, the coronation place of all Russian kings, see the famous Tsar-bell and Tsar-cannon, magnificent palaces of the Russian Emperor and and the Residence of the President of Russia. We can't guarantee you will shake hands with Mr. Putin, but who knows...
Russian style lunch (optional).
If you'd like to, your guide will show you good places to try a Russian cuisine. That's an important part of your Russian experience, isn't it?! Don't miss the famous beetroot soup
borsch
and the second course like
pelmeni
(dumplings) or
blini
(pancakes). A small shot of
vodka
or a cup of non-alcoholic
kvas
is a good end of the magnificent Russian lunch.
Christ the Savior Cathedral and Arbat Street.
After the rest, see the main and the biggest church of Russia Christ the Savior Cathedral. It's history is full of astonishing legends, but it became famous recently for Pussy Riot case you probably heard about. Then stroll with your guide along the fancy Arbat Street and buy souvenirs for your friends and family. It is the best place in the city to get the famous Russian doll
Matreshka
. We offer privte tours not only in English! Pleasу mention if you want to have a guide speaking Spanish, French, German, Chinese, Portugese, Japanese etc.
| | | |
| --- | --- | --- |
| Pax | Price for a group, € | Price per person, € |
| 1 | 310 | 310 |
| 2 | 365 | 182,5 |
| 3 | 417 | 139 |
| 4 | 472 | 118 |
| More | Contact us | |
Duration:
6 hours walking tour.
Includes:
pick-up from your hotel, professional guide, entrance ticket. Choose us for this Special Offer – we provide the best service at affordable price.
+7 (495) 222-34-66
WhatsApp us or Call 9AM-8PM or
e-mail us

Book FREE Tour now
| | |
| --- | --- |
| | |
Testimonial
"A very enjoybale day in Moscow. We had a very nice and knowledgeable guide Anastasia.(Nastia) She was very passionate about the City and we learnt so much in our brief four hours walk with her! Certainly this walking tour added a lot of value to our Moscow Holiday. A great idea to educate visitors about Russia and Moscow. The group was intimate enough to ask questions and stop for snacks etc..we thoriughly enjoyed it and would highly reccomend it.Carry on doing a great job!"
- Shilpa, UK
Testimonial
"I really enjoyed the tour, it was a great experience, very informative and fun. I will definitely tell everybody about that tour, keep it it is a fantastic idea!"
- Alexa, Germany
Testimonial
"Sorry I do not remember the names :( ... They were very talkative and very into everything. I think they both really love the city, and they made me feel like this to. They knew much about History, which was very informative! Great guides!!!"
- Malte, Germany
Testimonial
"We partook of the fantastic Petersburg Free Tour. Due to our timing during the low season (shockingly not everyone is flocking to Moscow while the average temperature is 15F), it ended up being just us and Sonia, the afore-mentioned super-guide. She quickly ascertained the limited scope of our wanderings.."
- Berti, USA