TOURS / SERVICES
BEST KREMLIN TOUR
Just 45 € - the best price for the best Kremlin Tour in Moscow
Didn't book hotel yet?
Biggest Privet hostel in Europe Privet Hostel starting from 12 eu/ day!
...Also in Petersburg!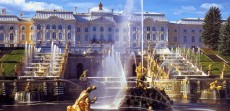 Partner's links
Russian Cuisine Workshop & Lunch

"A way to the heart of a man starts from his stomach", a Russian proverb says. Really, cuisine is one of the most important, efficient and tasty ways to explore the local culture. So get the most out of your trip to Moscow, and surprise your friends when you return home — learn how to cook Russian food!
What do you know about Russian cuisine: vodka, borsch, dumplings, and pancakes? Believe us, it's much more developed and interesting - there's a lot to discover!
Together with a professional chef you will cook the complete dinner: a salad, a soup, a second course and a dessert - all in Russian style. The food is much more tasty when you know the history of these dishes, isn't it? Our chefs are not only chefs, but about to become professional historians in cuisine.
Besides, Russian Cuisine Workshop is a great way to spend an evening! Bring your friends or a family for the workshop! If you're alone in Moscow and want to join a group - there's such an option as well! After the workshop, we will send you the recipes by email — and you can easily cook Russian meals at home!
On our Russian Cuisine Workshop & Lunch we're gonna cook:
a salad, e.g. vinegret or "herring under the fur coat") or soup, e.g. borsch (beet soup) or schi (cabbage soup)
main course, e.g. beef stroganoff with garnish or a chicken kiev
a dessert, e.g. baked apple with nuts
finally, you will have a feast!
Please book the tour min. 24 hours in advance. You pay only by cash just before the tour!
Please tell us if you have an allergy for something - we will change the menu for you.
Pax

Price per person, €

1

249 €

2

149 €

3

126 €

4

119 €

More

contact us for details
Includes:
pick up from the hotel and return, transfer by subway, the workshop and the dinner
Duration:
4 hours
+7 (495)

222-34-66
Pls call 10AM-10PM or e-mail us

Book FREE Tour now
| | |
| --- | --- |
| | |
Testimonial
"A very enjoybale day in Moscow. We had a very nice and knowledgeable guide Anastasia.(Nastia) She was very passionate about the City and we learnt so much in our brief four hours walk with her! Certainly this walking tour added a lot of value to our Moscow Holiday. A great idea to educate visitors about Russia and Moscow. The group was intimate enough to ask questions and stop for snacks etc..we thoriughly enjoyed it and would highly reccomend it.Carry on doing a great job!"
- Shilpa, UK
Testimonial
"I really enjoyed the tour, it was a great experience, very informative and fun. I will definitely tell everybody about that tour, keep it it is a fantastic idea!"
- Alexa, Germany
Testimonial
"Sorry I do not remember the names :( ... They were very talkative and very into everything. I think they both really love the city, and they made me feel like this to. They knew much about History, which was very informative! Great guides!!!"
- Malte, Germany
Testimonial
"We partook of the fantastic Petersburg Free Tour. Due to our timing during the low season (shockingly not everyone is flocking to Moscow while the average temperature is 15F), it ended up being just us and Sonia, the afore-mentioned super-guide. She quickly ascertained the limited scope of our wanderings.."
- Berti, USA