TOURS / SERVICES
BEST KREMLIN TOUR
Just 45 € - the best price for the best Kremlin Tour in Moscow
Book now!
...Also in Petersburg!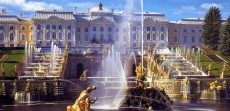 Partner's links
Tsaritsyno Park Tour
Tsaritsyno Park Tour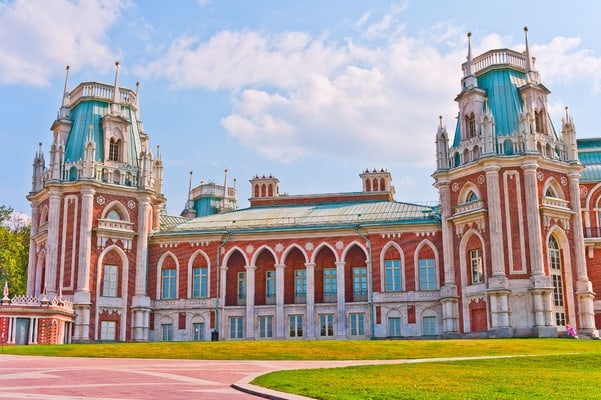 Admire the historical architecture, plunge into the times of Imperial Russia, enjoy the scenery at the parks. If this is just what inspires you then you must visit the incredibly beautiful park Tsaritsyno, which is located in the southern part of Moscow. Park Tsaritsyno is a territory of dreams and fantasies full of greenhouses, ponds, mounds, romantic avenues and secluded gazebos. You can touch the beauty thanks to the exhibition of Russian sculptures and European paintings.

This great architectural work was built for Catherine the Great by Russian architect Bazhenov and Kazakov in pseudo-Gothic style.In 1796 the construction was suspended by the death of Catherine. Unfortunately, since then the palace has remained unfinished and left for almost two centuries. In the 1960s, the park became part of Moscow and acquired the status of a protected historical zone.

You will not be indifferent to the landscaping of the park, created in the late 18th century. The territory of the park includes a gorgeous collection of tranquil ponds. The Tsaritsyno estate is a unique example of an imperial summer house with musical fountains, picturesque landscapes and timeless atmosphere.

The collection of the Tsaritsyno Museum includes about 30,000 different exhibits. You will get acquainted with the masterpieces of Russian and Western European art from the 18th — early 20th century. An impressive collection of antique tapestries, folk art of Russia and Central Asia, modern dishes, ceramics, furniture, paintings and a rich archaeological collection will mesmerize you with its diversity and color.

On our tour you will see:
Grand Palace
Small Palace (Semicircular Palace)
Bread house
The Opera House (Middle Palace)
Greenhouses
Gates and bridges
Milovid Pavilion
Pavilion «Nerastankino»
Gazebo «Temple of Ceres»
Earth Pyramid
Tower-ruin
The Tsaritsyn Mounds
Temple of the Icon of the Mother of God «The Life-giving Spring»
Ponds
We offer private tours not only in English! Please mention if you want to have a guide speaking Spanish, French, German, Chinese, Portugese, Japanese etc.
| | | |
| --- | --- | --- |
| Pax | Price for a group, € | Price per person, € |
| 1 | 178 | 178 |
| 2 | 203,5 | 102 |
| 3 | 229 | 76 |
| 4 | 254,5 | 63,5 |
| 5 | 280 | 56 |
| 6 | 305,5 | 51 |
| More | Contact us | |
Duration:
3 hours walking tour.
Includes:
pick-up from your hotel, professional guide, admission ticket.
+7 (495) 222-34-66
WhatsApp us or Call 9AM-8PM or
e-mail us

Book FREE Tour now
| | |
| --- | --- |
| | |
Testimonial
"A very enjoybale day in Moscow. We had a very nice and knowledgeable guide Anastasia.(Nastia) She was very passionate about the City and we learnt so much in our brief four hours walk with her! Certainly this walking tour added a lot of value to our Moscow Holiday. A great idea to educate visitors about Russia and Moscow. The group was intimate enough to ask questions and stop for snacks etc..we thoriughly enjoyed it and would highly reccomend it.Carry on doing a great job!"
- Shilpa, UK
Testimonial
"I really enjoyed the tour, it was a great experience, very informative and fun. I will definitely tell everybody about that tour, keep it it is a fantastic idea!"
- Alexa, Germany
Testimonial
"Sorry I do not remember the names :( ... They were very talkative and very into everything. I think they both really love the city, and they made me feel like this to. They knew much about History, which was very informative! Great guides!!!"
- Malte, Germany
Testimonial
"We partook of the fantastic Petersburg Free Tour. Due to our timing during the low season (shockingly not everyone is flocking to Moscow while the average temperature is 15F), it ended up being just us and Sonia, the afore-mentioned super-guide. She quickly ascertained the limited scope of our wanderings.."
- Berti, USA